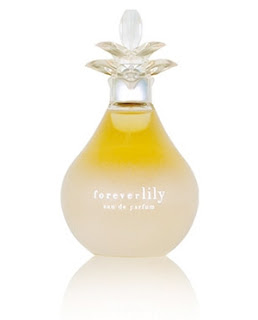 The What's On Your Vanity Series showcases a single beauty item a blogger loves because it's effective, but also she feels she must keep out on top of her vanity because the gorgeous packaging must be displayed.
Nadine Haobsh is a beauty blogging pioneer. She's pretty much the Laura Ingalls Wilder of beauty blogs. She's been blogging since early 2005, before a New York Times article falsly accusing beauty bloggers of being in it for the swag ironically yielded… a proliferation of beauty cloggers in it just for swag and events they invite themselves to. But I digress. I love to check in at Jolie Nadine to learn about the latest Brit gossip (my hidden guilty pleasure is Hello! magazine) and Nadine's most recent hair hues (she switches it up quite often). Here, her favorite beautiful vanity-worthy product, in her words:
My "this is way too pretty to be stored" product is Forever Lily perfume. It's a musky oriental, and it goes without saying that it smells divine. The packaging is so ridiculously awesome, however, that it actually sits at the top of my decorative glass bookshelf in the center of my bedroom—perfume case cracked open so it's properly displayed—with the frosted bottle nestled inside like a little jewel. You walk in the door and it's like: music plays, angels sing, world peace breaks out: FOREVER LILY!!
Thanks, Nadine! Stay tuned for more of What's On Your Vanity?
Like this post? Don't miss another one!
Subscribe
via my RSS feed.