The What's On Your Vanity Series showcases a single beauty item a blogger loves because it's effective, but also she feels she must keep out on top of her vanity because the gorgeous packaging must be displayed.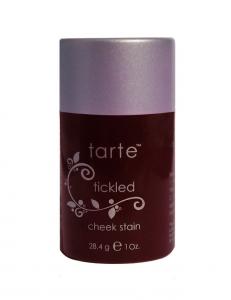 Even though my college days are long over, I frequent College Candy daily for its awesome relashe, fashion and beauty advice that's relevant for me even as I approach 30. I hit up the site's fabulous Editor in Chief Lauren Herskovic to see what products are taking up vanity real estate in HER lifestyle. Per Lauren:
My product is Tarte's Cheek Stain in Tickled. The color blends in perfectly on my skin to give me a great flush and lasts all. day. long. And I just love how simple, sleek, modern and bright the bottle is. It looks so great on my white vanity – an awesome pop of color in a sea of boring brushes and perfume bottles – and somehow makes me feel so much more chic and fabulous just seeing it out there.
Tarte Cheek Stains are available for $30 at
Sephora.com
.
Like this post? Don't miss another one!
Subscribe
via my RSS feed.