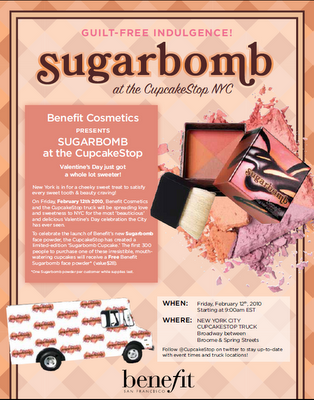 I don't believe in Valentine's Day. I find that something a little stronger than the mandate of Hallmark should move a dude to the point of spoiling me. But I do believe in Benefit Cosmetics, and I SURELY believe in cupcakes.
You can enjoy a guilt-free indulgence of Sugarbomb "sugar rush flush" face powder along with it! In NYC on Friday, February 12, crowds will be lining up to be the first 300 lucky people to receive the NEW Benefit box of powder when they bite into the limited edition Valentine's day Sugarbomb cupcake sold exclusively at the CupcakeStop truck.
Enjoy!
Like this post? Don't miss another one!
Subscribe
via my RSS feed.