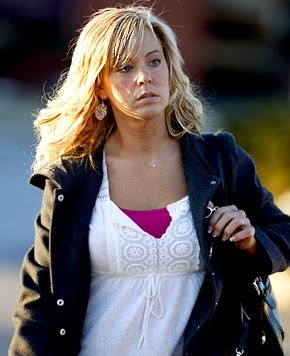 This just in via US Weekly regarding Kate Gosselin's new hair extensions:
Hair today, tears tomorrow?
Kate Gosselin, 34, marked the new year by trading in her signature spiky bob for long, blonde locks in a process that took 20 hours of work and would normally cost $7,000 (hers was comped).
Just one problem: "She hates it!"
Kate Gosselin hates her extensions? Um, this makes no sense to me. She really preferred her Sonic the Hedgehog 'do? I guess if you're walking around with THAT "before" for 2-3 years, you won't appreciate a fierce "after." Color me baffled.
Click here to read more.
UPDATE on Extensionsg(K)ate! According to PEOPLE, Kate is loving her extensions and Ted Gibson (obv) AND his entire staff (obv)… AND she's been seen with Ted Gibson stylist Ronnie about town. Let me just say for the record that I'm pretty sure no one doesn't like Ted Gibson (he's like Sara Lee). That man is the human equivalent of chamomile tea.
Like this post? Don't miss another one!
Subscribe
via my RSS feed.