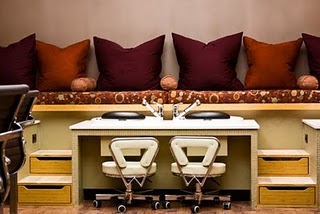 Cranky pants doesn't even describe my mood on Tuesday.
Our boiler at work plum stopped working. STOPPED. So, everyone's working donning puffy coats, rocking scarves, wishing they'd thought to rock their fingerless gloves to work that day because they're so much easier to type with. Then, one of our two bathrooms was out of commission and there was a quite unsexy small flood, which just added to the horrendousness of the situation. The boiler was fixed half-way through the workday, but my body felt irrationally chilled the entire day. So when I headed to Eve Salon for their Pampermint Pedicure, I actually felt revived. Upon my arrival, there was a dialogue that went like this:
"Would you like a hot chocolate with your Pampermint Pedicure?"
"YES."
"Want a shot of Peppermint Schnapps in it?"
"Does Sonia Rykiel love a stripe?"
Available through January 31st, the Pampermint Pedicure ($39) is exclusive to Eve. Each 45-minute service engages peppermint oil-infused products to recharge tired muscles and calm your post-holiday stressed-out mind. In addition to a piquant peppermint sugar scrub, you'll receive a massage that will have you soothed in no time. I highly recommend technician Ira, who buffed, massaged and polished with aplomb. I stuck with an oldie but goodie, Essie's Jelly Apple for my Pampermint Pedicure and left the chair feeling uncharacteristically optimistic and like all was right with the world.
This moment of relaxation, in fact, brought the score to: Brutal winter weather 0, Amber 1. Partake in your own Pampermint Pedi before January 31.
Like this post? Don't miss another one!
Subscribe
via my RSS feed.

Disclosure: This pedicure was provided free of charge for editorial consideration.