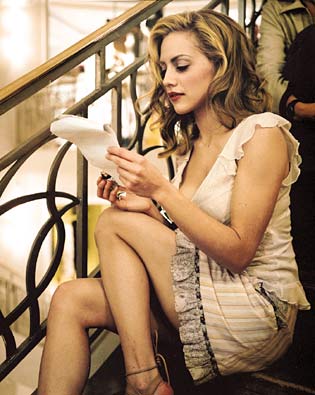 Gals, I'm so sad to learn of Brittany Murphy's untimely death. This super-talented gal was only 32. She remains one of the few gals who made such a dramatic hair lightening (beyond the spectrum of 5 shades) with great results (in Uptown Girls, specifically). As my gal Tamar pointed out, she's now "rollin' with the homies in heaven."
I loved her as Clueless' Tai, who to this day delivered the best high school "tell-off" line the world has ever heard: "You're a virgin who can't drive." I think of Brittany Murphy every time I give my doorman a product I won't use. Her Uptown Girls character Molly tossed tons of swag to her own gateway defenders saying, "Got a girl, Tony?" over her shoulder. I rooted for her and Ashton Kutcher, though it didn't work out in the end. I even condoned her way-too-young fictional marriage to him in Just Married. She even played chicken-loving crazy Daisy like a pro in the epic Girl, Interrupted.
I always remember one of her fantastical beauty tips: To buy boxes of at-home hair dye just for the accompanying fabulous conditioner. There's nothing like it.
Here's to "talking like grownups," Brittany Murphy, and saying whatever you'd like, regardless of it being receieved as "way harsh." We'll miss you, doll.
Like this post? Don't miss another one!
Subscribe
via my RSS feed.