This one is for your friend who appreciates the complexity that is Mike "The Situation" Sorrentino on MTV's The Jersey Shore. Lord, have you SEEN that opus of television genius? I'm so grateful to Fashion Binge's Tamron for forcing me to watch it. "If you don't love The situation, I'm gonna make you love the situation."
So as I was saying, you know you have that friend who, despite the threat of early aging and skin cancer, still wants to "lay out" the entire summer, wear light and shiny lipstick and rock out at Bar A and DJai's in Belmar. And to coax that gal out of her gellack'd rut, I suggest you purchase her Philip B Maui Wowie Beach Mist for the holidays.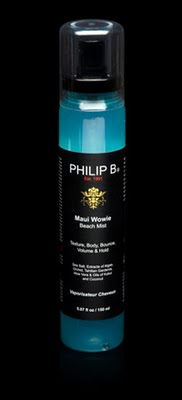 This miracle hair juice instantly brings summer back into your recipient's follicular lifestyle. A few blasts yields waves with body and bounce, thanks to its cocktail of sea salt, Tahitian gardenia, algae extract, orchid and coconut extract. It leaves hair touchably textured, never crispy nor stiff.
I'll just say it: It's the hair your pal needs to have while she's driving down the Parkway noshing on a chicken parm hero listening to Bon Jovi. She'll thank you later when she's totally "vibing it."
Philip B Maui Wowie Beach Mist retails at Thompson Chemists for $22.
Like this post? Don't miss another one!
Subscribe
via my RSS feed.