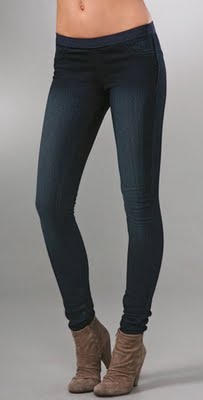 I've become something of a leggings guru at Daily Makeover HQ. After doing some major PR for American Apparel's Winter Leggings, both Rachel and Megan ran out during lunch and purchased their own respective pairs. For the longest, I was vacillating between totes ridic and totes fly when it comes to jeggings (also known as leans) until I became acquainted with this pair from Free People*. I had visions of enormous ass situations from pocketless jeans that existed in large quantities in the late '90s.
But these little gems skim my legs without making me feel like Shamu because they come with their OWN proper jeanslike butt pockets AND come in a super dark wash. Or in black, the darkest wash of all. They come with faux pockets in the front, along with a faux fly. But luckily, the very REAL pockets on the back are totes flattering. Because you know. Otherwise I'd be all, FAUXget it, Free Peeps.
Instead, I'm all, Free People Blank Denim Jeggings, tattoo your name across my heart. What do we think re: Jeggings? Share, dolls.
Get your Free People Blank Denim Leggings at freepeople.com for $78.

Like this post? Don't miss another one!
Subscribe
via my RSS feed.

* Disclosure: Bought these jeggings at the Free People store on 5th Ave with my own cash money.