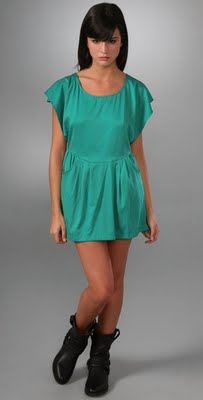 I seem to have a MAJOR problem involving two things: My non-existent shopping budget and the Free People boutique on 5th Avenue. Every weekend, I convince myself that my new job requires me to buy funner (shout-out to Elle Woods) weekday clothing, now that I've rid myself of my former corporate stuffy gig. And then I proceed to blow my entire "allowance" on sparkly, gorgeous things.
One thing in particular, however, proved to be a fantastic investment. I've rocked the Vintage Satin Dynasty Dress* ($108) like it's my goddamn JOB the past few weeks. I've worn it to work, backstage at Fashion Week, and on dates. It is my everything. It's a tad short to really rock on its own (though the model pictured above would say otherwise), but it pairs well with black leggings and my fierce OTK boots. Even better: I adore the name. And I wonder: Do you think they're referring to the fabulous Alexis Carrington Colby? Or the Ming, perhaps?
The Free People Vintage Satin Dynasty Dress is available at freepeople.com, Bloomingdales and free standing Free People boutiques.
Like this post? Don't miss another one!
Subscribe
via my RSS feed.

*Disclosure: I purchased this myself at the Free People store