If we've interacted ever, even for a few minutes, it's highly probable that I've expressed my irrational hatred for my two least favorite things on earth: Cole slaw and Good & Plenty.
Let's start with the former: Why shreds of cabbage mixed with carrots and MAYONNAISE counts as a side dish at some eateries, I'll never understand. And good LORD, Good & Plenty. I don't have words to describe my intense distaste. Oh wait, yes I do. Let's start with the fact that it looks deceptively GORGEOUS. Right? It's like… the vampire of vile licorice candy. It lured me as a small girl of five with its pretty pink and purple packaging (I believe my predilection for its packaging planted the seed for my obsession with prettily-packaged beauty confections later in life).
And then I tried it and retched on the spot. It didn't taste like yummy Starburst-esque faux strawberry and grape, the way I'd imagined it would. Or perhaps like its innocuous Halloween counterpart Dots. No, friends. It tasted like HELL. Black licorice hell. Never again did I deign to ingest a single Good & Plenty (is that the singular form?). The experience was similar to the one I'd had early on with pumpernickel bread: I'd prepared my palate for chocolate poundcake. Major disappointment ensued.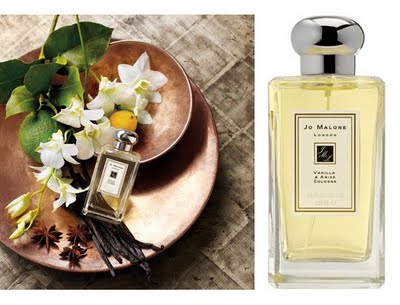 So imagine my surprise when I spritzed a little of Jo Malone's new Vanilla & Anise Cologne ($55) and I LOVED it. Anise is a flowering plant in the family Apiaceae native to the eastern Mediterranean region and southwest Asia known for its scent and flavor that resembles licorice. And yet, when combined with vanilla, it yields a delightful, warm fall/winter fragrance that I actually heart. It's spicy and just a little bit sweet, but never cloying. I plan to rock it during all my fave fall activities.
Jo Malone Vanilla & Anise Seed Cologne is sold at jomalone.com.
Like this post? Don't miss another one!
Subscribe
via my RSS feed.