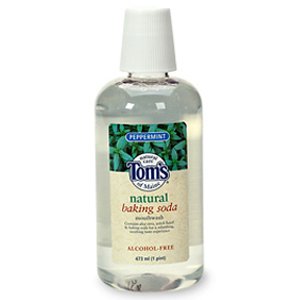 By Carol (my mother)
Don't you just hate it when your favorite toiletries are discontinued? Or for that matter , your preferred cosmetics, foods , etc. I always take it personally. I get angry and even paranoid. Which of my "can't-live-withouts" will bite the dust next?
Years ago, my absolutely indispensable mouthwash, Sparkling by Rembrandt, disappeared from the shelves. I searched every store like a bloodhound for that elusive cobalt container, finally finding one store with a few dusty old bottles. Greedily, I scarfed them up. Then, nothing. Later, I discovered that Johnson and Johnson had bought out Rembrandt. Calling their customer service department I was told that they had discontinued that item, preferring instead, to produce only the Rembrandt whitening products.
Pleading shamelessly with that perfect stranger, I made my case: no alcohol to irritate the throat, divine taste – minty, sweet but not too sweet; utterly refreshing ; the added bonus of an antiseptic benefit. Crisply, politely and with infuriating corporate cheeriness I was told there was nothing she could do.
I made an end run. I called The Vermont Country Store, famous for its power to resurrect discontinued items from oblivion. I told them the situation and they said they'd work on it . They were lovely to deal with. After a decent interval, I received word from them. Unfortunately, they had come up short.

What to do? I tried various non-alcoholic substitutes and I gagged. They all seemed sickeningly sweet, unctuous and/or with a creepy chemical flavor. Bottom line – unpalatable. Then I hit pay dirt. Tom's of Maine's Peppermint Natural Baking Soda Mouthwash. Hallelujah! They got the formula just right. I felt like the Goldilocks of mouthwashes. To quote from the label: "Our Natural Peppermint Baking Soda Mouthwash is a pleasant departure from the excessively sweet, alcohol–based mouthwashes" (I would add, the non-alcoholic based ones as well) "… our mouthwash is free of alcohol, artificial dyes, and saccharine, and contains a unique blend of pure peppermint oils for refreshing flavor and baking soda for a clean, healthy-feeling mouth."

I can attest there is absolutely no chemical flavor at all. It tastes good and feels good in the mouth. Fabulous product.


I'm also liking Tom's of Maine Maximum Strength Sensitive Toothpaste In Soothing Mint and True Mint and I'd like it even more if it were whitening as well. Perhaps they're working on it.
I can only hope.
Tom's of Maine products are sold at tomsofmaine.com.
Like this post? Don't miss another one!
Subscribe
via my RSS feed.