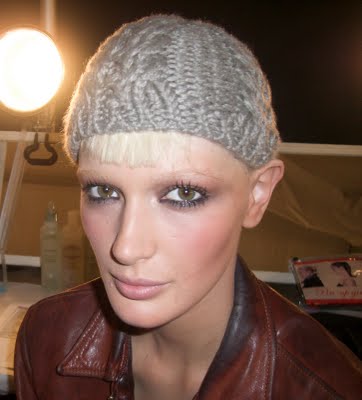 By BBJ Fashion Week Contributer Ventisoylatte
Picture Serena Van Der Woodson stuck in the Sahara Desert.
The "dusty overly-tanned schoolgirl look," inspired the makeup aesthetic of the show. Maybelline Global Makeup Artist Charlotte Willer started off the look using Maybelline's Liquid Mousse as a base. Eyes were covered with the creamy and yet-to-be-released Eye Studio Palette. Get excited for this yet to be released 2010 product: Charlotte says, "the creamy texture doesn't allow any color to fall beneath the eyes during application." She lined the eyes and applied Stiletto Mascara to give them a "scruffy" look. Lastly, Charlotte used Color Sensation in 435 Brown on the lips and topped it off with mineral powder to give it a natural look. To set the "sunbaked and desert look," She applied mineral makeup using a secret weapon straight out of her closet.
Ladies, if you want to get "dirty," use a sock. The creases in the fabric yield the best dirt effect around.
Like this post? Don't miss another one!
Subscribe
via my RSS feed.