So, I hope you like this nonchalant little jacket by Free People's We the Free line, called the Ebb and Flow Jacket ($98). Because most likely, if you are within view of me between now and say, next June (when it will be too hot to wear it), I'll be rocking the hell out of it.
It reminds me of that super gorge, super wearable nonchalant little jacket Jillian Lewis of Project Runway Season 4 rocked throughout the taping of the show. This little warmer-upper is at once girly and edgy. I'm into its comfy grey sweatshirt vibe, but am slain by its ruffle effect when zipped up. It also comes in black, but I prefer the casualness of the grey.
The gathering in the back kills me softly.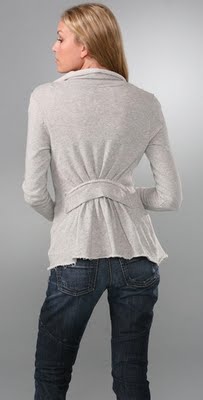 Free People's We the Free Ebb and Flow Jacket is available on freepeople.com.
Like this post? Don't miss another one!
Subscribe
via my RSS feed.