Welcome to day two of Board Game-Inspired Beauty Week!
Board Game-Inspired Beauty Week is a theme week is about by my favorite board games and a corresponding product inspired by each. The Hasbro-hued world of fun should have more to do with beauty than it does currently, n'est-ce pas? I plan to change all that. An entire week of boardgame posts. Am I the biggest loser or WHAT?
Today's product is Benefit's Miss Popularity ($24), a precision highlighter that you can dab on the inner corners of eyes, your brow bone, and on top of cheek bones for instant sparkle and life. The consistency is a loose powder, but its spongy tab that dips into its corresponding vial of product makes it fairly mess-free.
The board game inspiration: Candyland's Queen Frostine (in blue, pictured below):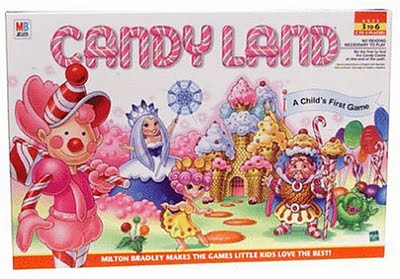 Boardgamegeek.com's forums feature a very disgruntled Candyland lover who evidently is continually OUTRAGED by the continued shafting of Queen Frostine. Apparently, in newer versions of the game, she's been demoted to princess status. So, the queen is gone and has since emerged from her Pantone grave as Princess Frostine. I mean, that doesn't even rhyme. What's up with that, Hasbro? Parenthetically, is that not the best name EVER? FROSTINE. I may name my firstborn that.
Storytime: When I moved into my first NYC apartment, a fourth-floor walk-up that was a "two bedroom" but in reality was a tiny one-bedroom and a walk-in closet my then roommate slept in on a cot. I decorated my bedroom with a Queen Frostine theme: an ice-blue duvet and of crystal-framed photos. Since I started with a "canvas" of white IKEA furniture my brother had left me (he'd moved back to Philly, and I therefore usurped inherited his apartment), the ice blue and crystal touches gave the room a very Frostine air. I even had one of those filmy canopies they were selling at IKEA at the time. Anywho.
Benefit's Miss Popularity is available at benefitcosmetics.com.
Stay tuned for more board game beauty tomorrow!
Like this post? Don't miss another one!
Subscribe
via my RSS feed.