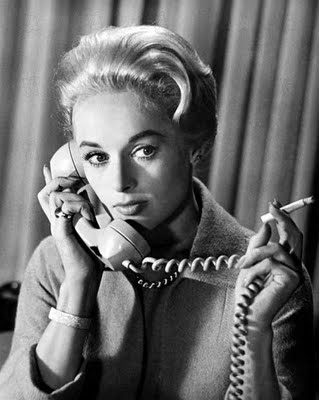 Sixties Cinema Scenes Week is a week-long series leading up to the Season 3 premiere of Mad Men on Sunday, August 16. Throughout the series, I'll review products inspired by scenes of my favorite sixties flicks.
The Birds (1963) TERRIFIED me when I watched it in 4th grade at a sleepover at my friend Carrie's house to the point where I'd flip OUT when a seagull came within a mile radius of me throughout several subsequent summers at the shore. Tippi Hedren, while most patently not Grace Kelly, managed to channel the latter's cool-blonde appeal very successfuly. Her pert 'do in the movie lives on in my memory as a most delightful volumized French twist. Here's what I recommend to recreate it in the comfort of your non-bird-infested home.
Davines Defining Volume Mousse ($18) Davines is an Italian brand with which I've only recently become enamored. I love the strong, yet pliable texture this volumizing mousse imparts on fine hair. It infuses roots with moveability, without making it too stiff or hard-looking. For the lift to Tippi"s pulled back 'do, finger-comb a handful through wet hair all over roots. Flip over and make sure to get the bottom portion of hair as well, then blow-dry.
White Sands Smudge Texture Creme ($15) To achieve a do that will maintain an updo like
Tippi's locks in the pic above, you need to employ something a little stronger than a frizz serum. This water-based, light pomade pieces up ends just a bit and adds a smidge of texture. Define ends pre-updo with this product for long-lasting, weightless hold. It's also perf to use if your hair is a bit too clean (as opposed to second- or third-day of your blow-out) to hold a structured style such as this one.
Like this post? Don't miss another one!
Subscribe
via my RSS feed.