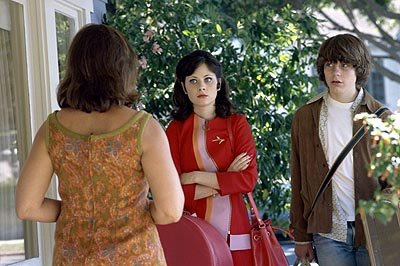 There are so many beauty images burned into my subconscious, and Zooey Deschanel as stewardess Anita Miller Almost Famous is one of my absolute faves. I mean, what an exciting time that was to be a saucy stewardess. The 70s was IT. Anita's red and pink outfit is something I'd buy to wear as a person who lives in 2009. It's just so punchy. And if punch is wrong, I don't want to be right. And have you ever seen a better berry lip/cat eye liner combo? Obv, my coloring doesn't lend itself to this exact look (which I believe is achieved with a red lipstick and very black liquid liner), but I've discovered a version that works for the recessive-gened set (i.e., moi, the fairest of them all). To achieve it, you need:

Jemma Kidd Define Stay Put Eye Liner in Earth($24) David Horne, Director of Education at the Jemma Kidd Make Up School recommends accentuating the outer 2/3 when you apply this easily glidable eye liner to create the appearance of a wider set eye. Just wing out the ends and this super pigmented, rich liner will last all day. This luxe pencil is the caviar of eye liners. Yes, it's a bit pricey, but you'll want to shell out for GLIDE like this. You'll be "incendiary, too, man," with your sultry liner. TIP: I might be Captain Obvious-ing out right now, but I JUST discovered that a good sharpener is everything. I was using a pretty crappy (sorry, but it was) Diana Brill sharpener for like, months, not realizing that I should simply upgrade to a better sharpener that doesn't BREAK my liners. I've since switched to the Anastasia Eye Pencil Sharpener ($6) and my pencils are sharpening like a dream.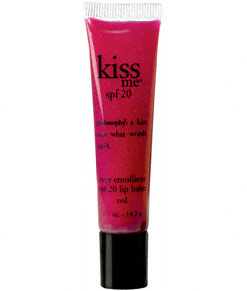 Philosophy Kiss Me Very Emollient SPF 20 Lip Balm Red ($14) I'll just SAY it: This is the kind of lip balm/gloss you want to keep TWO of in your purse. You know. Just in case you're at happy hour and cute dude comes strolling up and you can't root through the cavern of your purse fast enough, you'll have a better chance of getting to this hydrating, yet glossy sheer red tinted balm when you keep a couple on hand. It's even flavored with the slightest little baby hint of mint. Use it and "some day, you'll be cool."
Jemma Kidd Define Stay Put Eye Liner in Earth is sold at
spacenk.com
and Philosophy Kiss Me Very Emollient SPF 20 Lip Balm Red is sold at
philosophy.com
.
Like this post? Don't miss another one!
Subscribe
via my RSS feed.