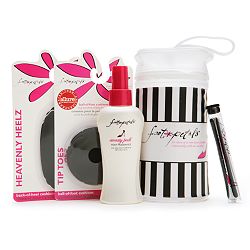 For $40, this everything-your-tootsies-need kit from Footpetals will take you from flats to stilettos in minutes. Flat. It's called the Luxury Kit, and it contains
Tip Toes® black iris ball-of-foot cushions (3 pair) which stop feet from sliding forward
Heavenly Heelz® black iris ball-of-heel cushions (1 pair) which help keep heels from slipping in & out of shoes
Strap Strips® black iris thin strips (8 thin strips) which add comfort to any straps
Sweaty Pedi foot fragrance (3.8 fl oz) which eliminates nast foot odor and smells pretty delightful
I'm in desperado need of these foot saviors after last night, when I was photographed by Patrick McMullan for the SECOND time rocking my flats. I need to break free from this rut and embrace my "well heeled" lifestyle once again. It's sheer laziness, dolls. He photographed me and a few blogging pals yesterday at a superluxe party thrown my MAC cosmetics to celebrate their latest collection for which they collaborated with artists (I hit up the Richard Phillips private party–but unfortunately came thisclose to missing an Ed Westwick sighting. Le sigh).
Now that I'm well armed with the appropriate foot cushioning, there's no excuse. And I'll be totes ready for my close-up next time.
The Luxury Kit is a beauty.com exclusive.
Like this post? Don't miss another one!
Subscribe
via my RSS feed.