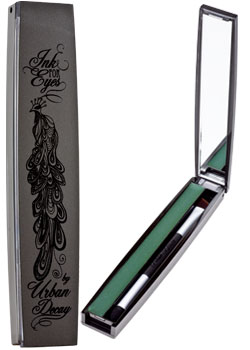 Vampires are SO hot right now, and Urban Decay knows it. Parenthetically, did you gals happen to check this article from a while ago which posited that more vampire movies come out when Democrats are elected to U.S. presidency and more zombie movies come out during a Republican administration? It's quite wild. Especially I've realized that my last vamp obsesh was the Lestat-peppered era of my adolescence… during the Clinton administration.
Anyway. It's surely within the vamp theme of our Twilight and TrueBlood-obsessed pop culture that the brand created its latest coffin-encased item of cosmetic genius, Ink For Eyes eye liner ($22). It's a CREAM liner, dolls. Not a gel. And for that reason, it keeps your skinny liner brush free of hard-to-clean-off dried-on debris post-use. Its angled brush creates a razor-sharp skinny line thisclose to lashes. Color (your choice of seven wearable shades) adheres quickly and easily to your lids and lasts from your first coffee to your final cocktail. My friend Denise of Siren PR and I have about four convos a day about how phenom "that coffin liner" is. Best of all? An adorbs PEACOCK lives on its case. Tamron, are you READING?
P.S. It's even paraben-free. Get on that shiz, (Le)stat. [Thanks for that HILAR idea, Kristen!]
Like this post? Don't miss another one!
Subscribe
via my RSS feed.