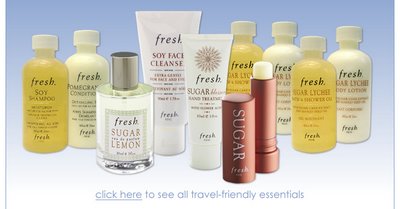 Go to Fresh.com to get a complimentary rose makeup bag with any purchase of $50 or more. Simply enter TRAVEL as the promo code at checkout. Offer valid through July 20, 2009.
I recommend the brand's divine Mangosteen Soap ($14) or their new Brown Sugar Body Cream ($35), which I tried out in Sephora the other day. The scent is to DIE and the cream's emollient properties will calm any sign of flakage.
Enjoy!
Like this post? Don't miss another one!
Subscribe
via my RSS feed.