Gals, when I've had what can only charitably be called "A DAY," I like to reward myself with a little beauty gem from my local Duane Reade. Just walking up and down the aisles soothes me. I find that even giving myself a budget of $10 for a beauty delight can totes lift my mood from blah to cha cha cha. Here are some recs for your next drugstore tour.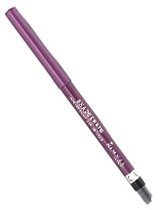 Rimmel Exaggerate Waterproof Eye Definer is the saving savvy gal's replacement for her Benefit BADgal Waterproof Liner. Seriously, this Rimmel iteration is just as good for a fraction of the price. Rimmel is seriously one of the BEST drugstore brands there is. Just like everything British, there's just a DIFFERENCE. It glides onto your lid with ease, lasts a full work day and even comes with a smudgy sponge at the end of the pencil. Sold? Sold.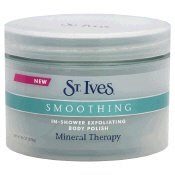 St Ives Smoothing In-Shower Exfoliating Body Polish, Mineral Therapy ($8) Formulated with real sugar crystals, this exfoliator rids you of skin snagginess (ICK, right?) in a flash. I love it as a pre-self-tan scrub as its on the drier side (more oily scrubs can eff up your tan, leaving it streaky), but then transforms into a creamier almost-lathery texture. At $8, it's TOTES affordable. Skin is noticeably softer and smoother post-scrub. Gift it to yourself, mmkay?
Happy Friday, dolls.
Like this post? Don't miss another one!
Subscribe
via my RSS feed.