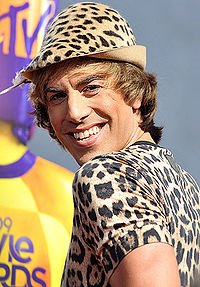 From WWD:
After two years of crashing catwalks, Brüno is hitting the big screen at midnight and the fashion industry seems to be in a mocking mood. Diane von Furstenberg tells today's Women's Wear Daily, "He's a great comedian and incredibly talented and I can't wait to see it. In comedy, anything is fair game…He didn't come to my fashion show but I wish he had." But being on the receiving end of Brüno's antics isn't always fun and games. Agatha Ruiz de la Prada watched in horror as Brüno bullied his way onto the catwalk of her show last year. "I was furious with that man. He was violent. He pushed my art director to the floor and scared the models…I wanted to kill him," she recalled. For now, she may have forgiven Sacha Baron Cohen, but the ghost of Brüno will be felt at her fashion shows for a long time. "I will tell you. Security? We have much more of it now."
Click here to read the rest of the article. Will you be seeing it opening day this Friday? I will be at 8pm!
Like this post? Don't miss another one!
Subscribe
via my RSS feed.