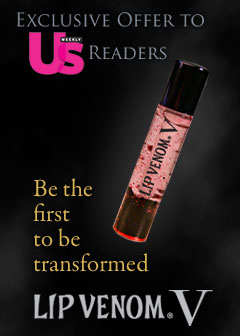 Daneen just tipped me off to this, dolls. DuWop is offering a sneak peek of their highly-anticipated Twilight Venom ($16), debuting this Fall. Lip Venom V is not your typical DuWop venom. Instead of a gloss, Lip Venom V is a shimmering crimson lip stain suspended in a venom-laced liquid lip conditioner with a super potent bite (watch out!), and contains argan, avocado, olive oils and vitamin E.
Per DuWop, only a limited number of Lip Venom V have been produced. Vampires may live forever, but this offer won't. Due to limited quantity and exclusivity of this offer, DuWop is imposing a ration of 2 per customer.
Enter your special code venom54u (thanks, reader Haley!) at checkout to receive the Us Weekly exclusive discount. If you had previously pre-ordered Lip Venom V, your entire order will ship July 10, 2009.
Offer applies to one order per customer per household. This one-time offer ends July 31, 2009 at midnight (ET) or while supplies last. Click here to get yours!
Like this post? Don't miss another one!
Subscribe
via my RSS feed.