I had the pleash (that's pleasure, dolls. It didn't make it into my glossary yet) of meeting the talented Kristen Vinakmens last year in LA at a beauty conference. Kristen's blog Sugarshock is on my list of daily reads (and it needs to be on yours, too) thanks to her plethora of cultural refs, snappy copy and beauty expertise. Canadian beauty and lifestyle magazine writer (most recently for ELLE Canada) Kristen has worked in the biz since 2001 and launched SugarShock Beauty in March 2007. She won my IMMENSE respect when I caught this little gem of hers below, which refers to one of my fave shows of all time, Twin Peaks. Oh, the days of sexy Agent Dale Cooper. Observe: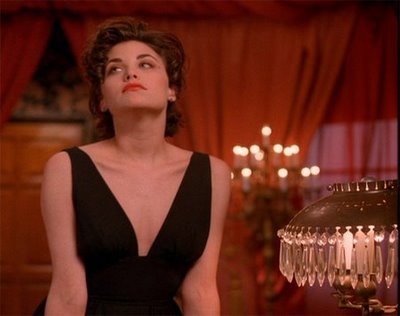 In the early '90s, I was a big Twin Peaks/David Lynch fan. The music, quirky characters and black humor of this cult show were like nothing else on TV, or anywhere else for that matter. And one of my favorite characters was Audrey Horne (played by Sherilyn Fenn), the femme fatale teen with the style straight out of 1950s sock hops (tight sweaters, bobby socks and all), who had a crush on Agent-"that's a damn fine cup of coffee"-Dale Cooper. So I thought it was pretty cool that burlesque beauty and fashion icon Dita Von Teese took inspiration from Fenn's look, and in particular, this image of Fenn on the cover of Playboy (all porcelain skin and raven-haired), in deciding to dye her blonde locks that iconic jet-black. Yesterday, Dita tweeted: "Found the original inspiration for dying my hair from blonde to black~Sherilyn Fenn, Playboy Dec.'90. Remember when Playboy was chic? The pictures inside are artful & stunning…"
Image credit: Dita Von Teese, styleskilling.com
Like this post? Don't miss another one!
Subscribe
via my RSS feed.