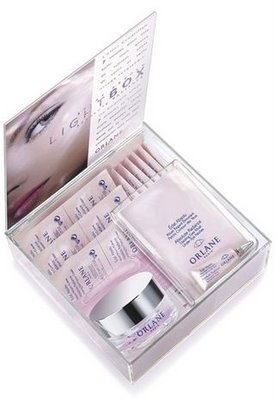 On
LOST
, creepy, nefarious
Ben
talks about a metaphorical
magical box
, one from which anything you dream will emerge. Said Ben to
John Locke
, "Let me put it so you'll understand. Picture a box. You know something about boxes, don't you John? What if I told you that, somewhere on this island, there is a very large box and whatever you imagined, whatever you wanted to be in it when you opened that box, there it would be? What would you say about that, John?"
My
own
(um, vain) dreams are pretty much limited to perfect skin and for that reason, I'm here to tell YOU that the
Orlane Absolute Radiance Lightbox
($200) is my
LOST
-inspired not-so-metaphorical magic box. Now, I wanted
not
to love it. It's $200 for
SIX
applications. It would be yet another expensive beauty habit in my lifestyle. But that's not the case, dolls. It's just not. Its steep price does push it into
Luxe Capacitor
territory. But it's so, so, worth it.
The Orlane Absolute Radiance Lightbox contains
Absolute Radiance Dazzling Eye Ritual
, which consists of
Eye Contour Serum & Under-Eye Patches; Shimmering Skin Masque + Cream
and
Absolute Radiance Evanescent Cream
. There are six full applications within the Lightbox. I recommend taking everything out of the box, so you can see what you're dealing with. Then, set it up in order of use.
The Eye Contour Serum & Under-Eye Patches are amazing. Somehow, seven minutes using these yields the same effect as ten hours of sleep and a lazy afternoon of watching hours of The Golden Girls.
Next, mix the Shimmering Skin Masque + Cream and apply for about five minutes. It has a tingling effect, but not in a Samantha-post-chemical-peel-in-SATC way. More like a you-feel-it-seriously-working good way. You know?
Then, you rinse it off, and remove the under-eye patches and apply the Absolute Radiance Evanescent Cream, which oxygenates and detoxifies. Post-application, I defy you to stop feeling up your face for five seconds.
The results are PHENOM. My skin looks younger than
Abigail Breslin
's, dark circles are diminished, and my overall complexion is simply brighter. This newfound luminescence lasted a full 24 hours, as well. I HIGHLY recommend it for weddings, mage interviews, and high school reunions. Basically, any time you want to show up with skin that looks younger than a fetus's. Mmkay?
Like this post? Don't miss another one!
Subscribe
via my RSS feed.