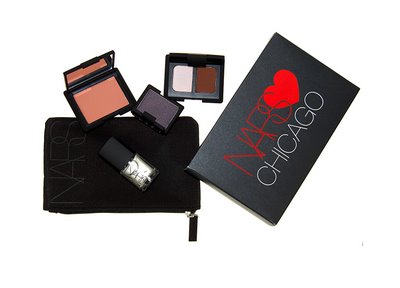 He toured San Fran, now François Nars is ready to take on the Second City! In celebration of the NARS counter opening at the new Barneys New York location in Chicago, François Nars will making a special personal appearance on Saturday, June 20th, 2:00-3:30pm. He'll sign copies of his books X-Ray and Makeup Your Mind.
Barneys New York was the first store to carry NARS in 1994, 15 years ago, when François debuted his collection with just twelve lipsticks! X-Ray (1999), the wildly successful photography book and collector's item, Makeup Your Mind (2001), the ultimate instructional makeup manual featuring the world's most recognizable models, and the limited-edition NARS Loves Chicago Set containing an assortment of four classic products resurrected from the archives by François Nars specifically for the women of Chicago, will be available for sale at the NARS counter during this time.
A talented team of NARS makeup artists will also be offering customers in-store makeovers with the NARS Loves Chicago Set and Summer collection.
BARNEYS NEW YORK
15 East Oak Street
Chicago, IL 60611
NARS Counter: 312-587-1700 x1175
François, when will you grace us in NYC with your presence and provide us with a New York-specific compact? I'd be all over it like white on RICE. Have your people call my people. Kthanksbye!

Like this post? Don't miss another one!
Subscribe
via my RSS feed.