Obv, the title is a shout-out to '90s cartoon The Ren and Stimpy Show, which I just learned will be syndicated on MTV2 as of this past Monday. Amaze! Let's get to beauty news.
So when I return from a long plane trip, the first thing I do is take a nonabridged shower, which includes a body scrub and shaving. For me, body scrubs occur twice a week and shaving is every other day. The second thing I do is a mask to purge my skin of plane. You know. To de-plane.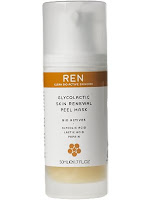 REN Glycolactic Skin Renewal Mask ($55) Daneen had RAVED about this, so I gave it a go a couple of weeks ago and DAMN was I impressed. Its texture, however, threw me for a loop. Its color and consistency reminded me a LOT of my much-discussed fave eye cream, Dr. Hauschka Eye Contour Day Balm. Which is an odd consistency. It took me a long time to get accustomed to Dr. Hauschka's iteration. I was skeptical that this fruit-acid based mask, with a creamy texture reminiscent of hydrating products, would do anything for clogged pores, per the its claim. It was hard to believe, much as it's hard to believe that Owner of a Lonely Heart is actually by YES, and not The Police. You know? Anyway, a ten-minute sojourn with this enzymatic formula leaves skin smooth, polished (but not raw) and GLOWY. Glowy! The best beauty word there is.
Moroccan Rose Otto Sugar Body Polish ($60) I love to use the Dina method of application and apply this exfoliator to dry skin, pre-shower. Flakes go the way of Eminem post-teabagging at the MTV Movie Awards. I'm into its sugar formula that's adhered with just a small amount of oil. Enough so that it moisturizes; not so much that it forms a pool that you need to spill out when you open the jar. And yet: it's enough oil that you don't need a separate body loshe when you emerge from the shower. Its light rose scent is non-octogenerian and manages to toe the line between sophisticated and sweet.
Even better? This socially-conscious brand donates 2.5% of its profits to campaigns that promote a better environment. Join the RENegade, dolls!
Like this post? Don't miss another one!
Subscribe
via my RSS feed.