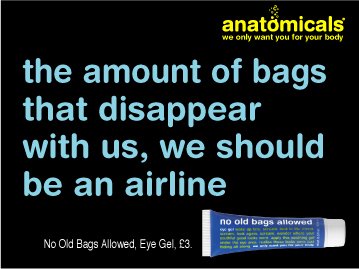 I've always said that in my next life, I'm simply coming back as a Brit. They're FUNNIER than we are. I maintain that the the British version of What Not To Wear is far superior, not that I don't ADORE Stacy and Clinton. Because I do. But they don't feel people up inappropriately and then laugh about it the way Trinny and Suzanne do.
My freshman year of high school, I had no problem babysitting at my neighbor's house on a Friday night (social life be damned) because they had Comedy Central. And I didn't at my house. Which meant that I could watch hours and hours of Absolutely Fabulous. After settling for hours of outdated Are You Being Served (hilarious, but totally old) I was inspired by Patsy Stone and her ridiculous glamour.
Were Patsy not fictional, she'd OBV be well versed in Brit brand Anatomicals. This fun, quirky range of products boasts endearing names such as No Old Bags Allowed Eye Gel, Stop Cracking Up Lip Balm, and Shower to the People Shower Gel. The packaging is adorable, yet minimal. It has a very Virgin airlines feel to it, mixed with a touch of philosophy. Their tagline is the best: We only want you for your body. Hilar.
No Old Bags Allowed Eye Gel is my fave of the bunch. It cools the eye area and visibly deflates puffiness whilst yielding gentle hydration. You'll want to use whilst taking in hours of Masterpiece Theatre and consuming tea and crumpets. You cheeky monkey.
Like this post? Don't miss another one!
Subscribe
via my RSS feed.