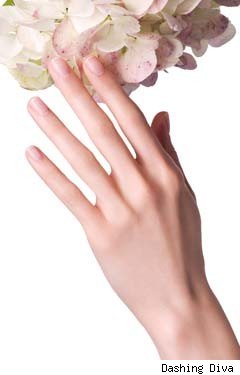 I LOVE THINGS THAT ARE SHINY. That's probably how I got involved in this beauty situation to begin with, right? I'm drawn to all that glitters like a magpie is: the shinier the better.
So when I experienced the
unbeatable gloss
that is
Dashing Diva
's new exclusive
Gelife nail service
, it had me at HELLO. Even better? It lasts much longer than a standard manicure–
about two weeks
—
and
there's no waiting 15 minutes to dry post-mani. So you can gelife and then
live
your life.
Gelife is a new procedure where two coats of a soft, removable gel is applied just like polish, then cured under a UV light after each application. The gel immediately sets in the UV light, leaving a mani (or pedi!) that lasts for up to two weeks and requires zero drying time. It currently comes in three natural colors: Clear, Cool Pink, and Warm Pink. I'm currently sporting the Cool Pink and am lurving it. Plans for more colors are in the works! You can also do the Gelife French.
To remove Gelife, you simply soak nails in pure acetone. The best way is to soak a cotton ball in acetone, place over nail and wrap each finger in foil. Wait ten minutes, and then remove. The gel is then softened and can be wiped off. Your natural nails are left healthy and intact underneath.
Gelife Natural Manicure $45
Gelife Natural Pedicure $60
Gelife French Manicure $55
Gelife French Tip Extension $65

Like this post? Don't miss another one!
Subscribe
via my RSS feed.