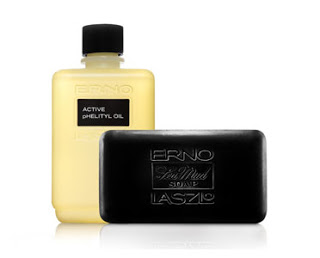 If this were the '50s ("Fonzie Times," as Hurley from LOST called that era), I'd be rocking this skin care suite's letter jacket. I've been wooed, girls. There's a lot of skin care out there that's simply good. But I have a promiscuous lack of brand loyalty when it comes to the stuff, settling down with few brands for more than a few weeks.
I went to Bergdorf Goodman for an Erno Laszlo facial this Saturday and when Cindy Lee, Selling Manager for Erno Laszlo at Bergdorf Goodman, told me it's the best skin care in the world, I was skeptical. I hear that phrase at least once a day be it with regard to skin care, makeup, hair care, or fragrance. 48 hours later, I'm STILL feeling up my own face–the true mark of good skin care. I should have known when S.S. Fair, the Samurai Shopper herself, told me that this is her brand to which she always returns. There's pretty much no better testimonial than that.
Here's the 411 on EL: Erno Laszlo founded the Erno Laszlo Institute of Scientific Cosmetology in Budapest in 1927. In 1939, he opened an Institute in New York city and later treated such high profile clients as Greta Garbo, Audrey Hepburn, Marilyn Monroe, Ava Gardner, Jackie Kennedy and the Duchess of Windsor. You know. A veritable "who's who" of… the world. In 1967, his brand was hailed as the "in-demand" line for department stores in Women's Wear Daily.
Anyway, Erno Laszlo at Bergdorf Goodman currently offers you–get this–a FREE 60-minute facial with any EL purchase of $175 or more. I did the Deep Pore Cleansing Facial. My esthetician, Asi Saridis, is a bit heavy-handed, but my pores thanked her when an hour later, my skin gleamed and was purged of toxins. She even did a manual lymphatic drainage massage, which resulted in a clearer complexion and diminished eye puffiness.
I took home samples of the skin care regimen, which my skin is LOVING. I'm deeply into the
Sea Mud Soap
($39). Here are the
very specific directions
: Fill your basin with warm water, dip the soap into it and gently rub the wet bar all over your face. Then, make a rich lather and massage. Follow with Erno's signature splashing technique. Twenty splashes of the basin's "treatment water" will cleanse skin, maximizing the beneficial effects of the soap. Ten more splashes of warm water will thoroughly rinse skin. I don't know how long I'll be able to employ this
exact
method, but my skin is loving it while I'm currently a devotee to the cult of splashing. Stay tuned.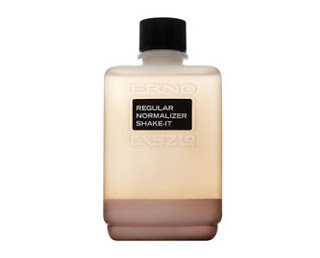 The other skin care products in the regime are fantastic (the
Light Controlling Lotion
($39) and the
Antioxidant Moisture Complex SPF 15
).
Two products in particular get a gold star. I'm stunned by the capabilities of the Regular Normalizer Shake-It ($45), which is a tinted toner. YES. A TINTED TONER. Have you ever? This toner-with-color treatment in ten sheer shades controls surface oil while evening skin tone. It's a liquid toner that evaporates into a powder on skin, making it perfect for summer. Just swipe it on with a cotton ball and your face won't even KNOW from how much you're schvitzing this summer. My shade is 0, the lightest. It's special stuff, dolls.
TranspHuse Lip pHixative
($50) is one of the best lip balms I've ever rocked. I bought my own after Asi dabbed a bit on my pout at the end of my facial. It treats and softens fine lines with
dermaxyl peptide complex
and
plumps with marine filling spheres
. It plumps with ZERO pain, a feat not easily achieved.
This suite of products earns holy grail status. Get on board, dolls. As the great
Biggie Smalls
says…
"And if you don't know, now you know."
Like this post? Don't miss another one!
Subscribe
via my RSS feed.