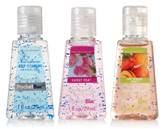 I don't have to tell you how horrifying this swine flu threat, which seems culled directly from the plot of 24, is. Nor do I have to tell you that every time my cubemate coughs or sneezes, I'm about to put on a haz-mat suit (to quote my gal Daneen). So when Bath & Body Works offered to partner with me for a giveaway of 10 of their Anti-bacterial Deep Cleansing Pocketbac hand sanitizers ($1.50!), I said hells to the yeah.
These little gems are travel-sized and let you instantly cleanse hands with natural ingredients and has powerful germ killers that kill 99.99 percent of the most common germs that may cause illness. It comes in scents like Coconut Lime Verbena, Nectarine Mint and Midnight Pomegranate, leaving your hands smelling as fresh as they feel–without veering into "clinical scent" territory. Enter via the widget all the way at the end. The deadline to enter is Sunday, May 10 at 11:59pm. Winners will be announced on Monday, May 11. Good luck!

Check out these hand washing tips from Bath & Body Works:
· Wet your hands with warm clean running water and apply soap
· Work up a good lather & scrub for at least 20 seconds (try singing the Happy Birthday song twice)
· Wash between your fingers, nails and the top of your hands
· Rinse hands well under running water for another 10 seconds
· Dry your hands using a paper towel or air dryer
· If soap and water is not available, use an alcohol based hand sanitizer like Bath & Body Works Anti-bacterial PocketBac. Apply product to palm of one hand, rub hands together and apply product all over surfaces of hands and fingers until dry.
Because hands are a frequent transmission route for infections that enter the body through the nose, eyes and mouth, avoiding contact with the face and practicing proper hand hygiene are crucial.
Wash hands before
· Engaging in any activity that involves hand-to-mouth contact
· Treating a cut or coming into contact with any other bodily fluid
· Being in a public place where disease can spread easily, from restaurants to mass transit
· Blowing your nose, coughing, sneezing or touching your eyes
· Coming into contact with anyone who exhibits flu symptoms
Happy germ-killing, friends!
Like this post? Don't miss another one!
Subscribe
via my RSS feed.