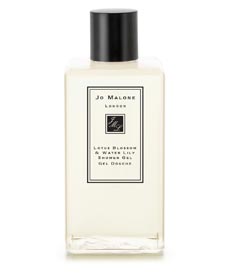 I'm all about splurging for occasions that warrant a little luxury, and the prom is most certainly one of them. I actually saved the last of my even-at-the-time discontinued Bath & Body Works Sparkling Pear Body Wash for use at my senior prom so I could feel extra spesh on my extra spesh night. Unfortunately, My brother had actually used up MOST of it, not realizing that it was a precious commodity (probably to sit around the house playing video games) and I was DEVA, as you can imagine. Thankfully, I'd had JUST enough for prom day.
Anywho, $50 a bottle is a lot for a high school gal to spend on shower gel, but this one is so, so worth it. Jo Malone's new
Lotus Blossom & Water Lily Shower Gel
is fresh, clean and yields loads of luxe lather–ESSENTIAL for
sparkling danceteria-ready
skin. Its light fragrance is vaguely
Asian
, moderately sophisticated (though not too
too
, you're still in high school!), and utterly invigorating. The formula's blend of
mandarin, sacred lotus blossom, bamboo and aloeswood
encourages energy. Along with
Dark Amber & Ginger Bathing Soak
($75) it's part of the
Kohdo Wood Collection
available starting TODAY on
jomalone.com
and on-counter. Kohdo BTW, is the
ancient Japanese art of incense appreciation
. It's a cultural adventure in addition to an olfactory one.
Sayonara,
Amber
Like this post? Don't miss another one!
Subscribe
via my RSS feed.