Two perfectly prom-ready hair accessories you must involve into your 'do: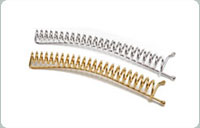 This slinky-esque gorge spiral Zannclip hair clip ($21-23) is plated in 24K gold or platinum. It's casual enough for day, but special enough to go along with you to prom. And, unlike many hair accessories it STAYS PUT. Best of all, when you decide to take your hair down, it doesn't leave that unsightly dent like so many other barrettes and elastic bands. If it breaks, the company will replace it or give you a full refund including your shipping. I love it in gold.
Love has a name and it's the Delight Silver Shade Headband by Swarovski ($125). Not to be dramatic, but GET THIS IN YOUR LIFESTYLE. I love it with a slapdash (only to the casual observer, you obviously will labor over it) pony with loads and loads of '60s volume at the crown. Or, it would look supes prett with long, flowing Gisele locks. Its elastic bottom won't give you a migraine, nor will it allow it to slip off mid-dance.
Like this post? Don't miss another one!
Subscribe
via my RSS feed.