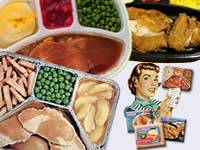 Just more evidence that I was born in the wrong decade: my unexplainable penchant for TV dinners. Like '50s relics poodle skirts, red lipstick, prissiness (I can't, I'm SANDRA DEE!) and chivalry, these need a for REAL revival.
With TV dinners, your gravy doesn't run into your peas thanks to the sectioned plate, which reminds me of that hilarious ep of Will & Grace when Molly Shannon's character starts crazily competing with Grace's interior design business. When a client asks them to collaborate on a project, Grace makes an analogy for her feelings about working with MS's character: "You know how you don't want your peas to touch your meat? Because the meat is CRAZY?" Classic.


Anywho, my favorite TV dinner is the turkey one (natch), and I always save the delish cranberry situation (located middle, top) for last. I was beyond excited to try Dial's new AntiOxidant Body Wash with Cranberry and Antioxidant Pearls which manages to smell *exactly* like my fave Swanson cran concoction. It's very homey. The wash's formula invigorates while moisturizing and coating skin with anti-aging antioxidants. Despite all the "antis" in that sentence, rest assured I'm very "pro." Best of all? An 18-ounce bottle will cost you a mere $5. If you're more of a bar soap gal, a three-pack of Dial AntiOxidant Bar Soap will set you back $2.49. Can you even? They're GIVING it away.
Get dibs on that action.
Later, gator.
Like this post? Don't miss another one!
Subscribe
via my RSS feed.