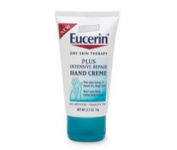 Oh hello, dolls!
It's been a DOG'S AGE! So, as I mentioned, opening/closing boxes and touching 1000 articles' worth of NEWSPRINT = torture for my hands. No joke, this morning I got a "leather cut" from a leather portfolio–not even a paper cut–because my hands are still that dry.
I need to run out today and buy some Eucerin Intensive Repair Hand Creme ($5), which my friend Lauren introduced me to. It is truly the best. This thick, fast-absorbing lotion provides a "moisture glove" instantly which manages to coat your skin without making you feel greasy. You know? Like when you worry you're going to ruin your outfit? It's not that kind of party. It's fragrance free, so even dudes won't mind using it. And? It lasts foreva-eva (to be said in the voice of OutKast's Andre 3000).
Eucerin's $5 iteration works just as well as my holy grail hand cream, AHAVA Mineral Hand Cream ($19). I'm still going to pick up the AHAVA from time to time, but Eucerin's squat bottle makes it perf for purse packing.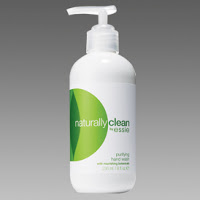 In other news, I have to report that the worst part about moving is packing and unpacking dishes wrapped in newspaper. Have we discussed this? The feel of newspaper to me is the tactile equivalent of nails on a chalkboard. I HATE it. I could barely touch the newspaper article I wrote myself. It's dry and vile AND it leaves a black mess all over your hands. I found myself washing my hands every 3-5 minutes and was glad that my in-rotation hand wash, Essie Purifying Hand Wash ($15) stood up to the task. I lurve its natural, botanical formula that moisturizes with essential oils. Its scent is light, but present enough that I feel de-newsprintified.
Like this post? Don't miss another one!
Subscribe
via my RSS feed.