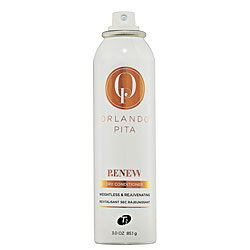 Leave it to Orlando Pita. DRY CONDITIONER. Can you even? That's my hair boyfriend, to use Julia's terminology. (Hers, BTW, is Ted Gibson. Since I'm a hair polygamist, I've made Ted my second husband. He's the Niki to Orlando's Barb, if you will.)
Orlando is a genius for so many different reasons, but my favorite is this: He GETS that I potentially ruin my follicular masterpiece when I style it post blow-out with products that make it DAMP. Because for curly hair, damp = curls where you DON'T want them. Also, I don't enjoy a leave-in conditioner (unless I'm going with my natural curls in which case I adore Ouidad Moisture Lock -$22) as it weighs down my hair and makes it look unwashed too quickly. Orlando's arid iteration, T3 Orlando Pita Renew Dry Condioner ($25), sprays on (just hold it 6-8 inches away) and infuses rickety-ish, sticking-out-every-which-way strands with health and dry moisture. It smooths the cuticle quickly with a blend of botanicals and skin care derived ingredients. It penetrates ends with conditioning Quaternium to compliment a dry shampoo sesh.
Renew is available at t3micro.com and Sephora.com
P.S. If you log onto t3micro.com on March 20, you'll have a chance to enter to win one of 500 full-sized Renew bottles!