This collection gives me pause. It's one of the most gorgeous compilations of makeup I've ever seen. It's inspired by the sensual and refined beauty of Indian women and offers touches of bright, joyful oranges and pinks that are evocative of the culture's ornate clothing and makeup. The best part? All of the packaging is be-bindi'd!
Givenchy provided a small group of beauty bloggers the opportunity to talk with fantastical Givenchy artistic director Nicolas Degennes over breakfast a couple weeks ago. P.S. You may know Nicolas as THE dude behind Phenomen'Eyes.
My faves from the collection:
Sari Glow Iridescent Blush in 43 Maharani Pink ($42) Nicolas mentioned using this on shoulders for a gorge glow and I've been sold ever since.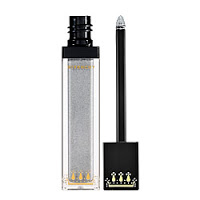 Precious Sari Glittering Glow Eyeshadow ($22) This one is actually more of a highlighter, although you can certainly use it as a shadow as well. Nicolas suggested using it in a stripe down your nose to slim it. Done!
Rouge Interdit Satin Lipstick in Maharani Henna ($27) This formula lasts forever and a day. I lurve the orange red hue this lipcolor yields.
The collection is available at Givenchy counters and at Sephora.com
.