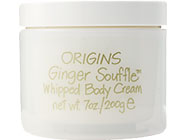 UGH, you guys.
I STILL am afflicted with The Siege, as I'm referring to the stomach virus that seems to have wiped out all of my friends and coworkers for at least four days within the last month. The most vile aspect of it? Nausea that won't quit. It's so good for your waistline. But it's so bad for… everything else. It's hard to sleep, watch TV, do work, read.
When I'm this naush, I make my own ginger tea by buying a fresh root and cutting it up into some boiling water. When I'm too hungover or sick to go buy some, I simply invest in some ginger ale. This time, I decided to pamper myself whilst enjoying the brisk, nausea-assassinating scent in the form of Origins Ginger Souffle Whipped Body Cream ($28).
Infused with ginger (natch), lemon, lime and bergamot, it's an instant spirit lifter that hydrates blizzard-ravaged skin like a dream. A dream from which you won't wake in a violent bout of nausea. Yay for small pleasures.