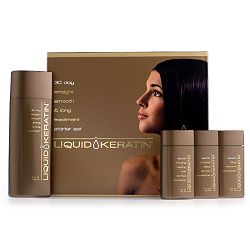 Liquid Keratin ($69 for the starter kit)
I'll just say it: if this stuff were around when I was in high school, I would have had a MUCH better time. I expected this Brazilian blowout to make my hair much glossier, less frizzy. But I didn't expect it to make it LONGER and THICKER. I mean. It's holy grail hair. HOLY GRAIL.
The starter kit includes:
* Liquid Keratin 30 day straight smooth strong & long treatment (4.0 oz / 118 ml) – Patent pending.
* Liquid Keratin Infusing Healthy Hair De-Frizz Shampoo (1.7 oz / 50 ml)
* Liquid Keratin Infusing Deep De-Frizz Conditioner (1.7 oz / 50 ml)
* Liquid Keratin Filling Leave-In Conditioner (1.7 oz / 50 ml)
More deets on LQ: Liquid Keratin is a patented hair treatment that in 30 minutes, infuses curly, frizzy, unmanageable hair with keratin protein it lacks naturally. Liquid Keratin is the first safe at home alternative to expensive salon treatments providing fantastic results of straighter, smoother, stronger and longer hair instantly without the use of Formaldehyde and other harmful chemical ingredients. Big fat bonus: Liquid Keratin-treated hair is also faster and easier to style.
Have you tried this stuff? And tell me in the comments what you think about BBJ videos!