Girls, in a perfect world, all of your fave moisturizers would come packed with their own SPF a million. I find that the best ones are often lacking sunscreen, so I've looked far and wide to find some that are light enough to layer well with my moisturizer so I don't FEEL like I'm wearing two lotions on top of one another. Which is, in essence, what I'm doing. But I don't want a gloppy mess of creams on my FACIAL, you know? You do. Here are my recs:
Elemis Liquid Layer Sunblock SPF 30 ($39) The fantastic Larissa at the Elemis counter at Bergdorf Goodman recommended this little gem for me to try and I'm so glad she did. It's extremely light and gentle on my skin. It contains antioxidants AND is waterproof. Make it part of your daily routine.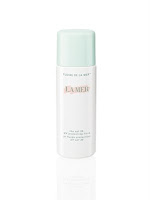 La Mer The SPF 30 UV Protecting Fluid ($65) This one's a little pricier, but the formula is so to die, I couldn't not bring it up. It includes Hollow Photonic Spheres to scatter light, creating an aura of luminosity. This lotion is also designed with The Smart Seaweed Ferment which attracts moisture to the skin to create a protective, emollient barrier. Use it and send dehydration the way of our former thriving economy.
CHANEL UV Essentiel SPF 30+ ($48) This one combines plant- and mineral-based extracts to effectively shield your grill from aggro UVA/UVB rays. The formula boasts Licorice Extract, which fades current dark spots. Best of all? CHANEL has thought of everything: mattifying agents abound, making it perf as a summer makeup partner.