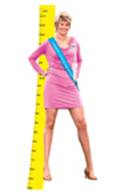 Kiehl's has partnered with a gal with very specific shaving needs. Svetlana Pankratova holds the world record for Woman with the Longest Legs. With 4 feet, 4 inch legs, Svetlana needs to take extra care when shaving, and she's chosen Kiehl's "Close Shaverettes" Simply Mahvelous Legs Shave Cream to smooth and nourish every inch of her legs. But imagine how long shaving takes with legs like that! No seriously. Kiehl's wants you guys to guess.

Through March 15, customers in free-standing Kiehl's stores and on Kiehls.com can guess exactly how long it takes Svetlana to shave her legs, down to the second. There will be one winner per store, and one winner from Kiehls.com. The customers who come closest to the exact answer, above or below, will win a full year of "Close Shaverettes" Simply Mahvelous Legs Shave Cream, and can nourish their legs with the soothing combination of Allantoin, Chamomile and Sesame Seed Oil.
No purchase is necessary; entries will be collected March 15 on Kiehls.com, and at Kiehl's free-standing stores.
Click here to make your guess!