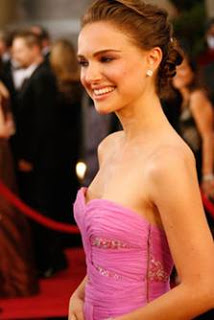 For Natalie Portman, Kevin Mancuso, Creative Director for Nexxus Salon Hair Care, created her modern and romantic updo. With a sweeping side part and soft curl pinned into a beautiful knot at the nape of her neck, the look was deceptively easy to create. Here's how you can do it at home.
Step 1
· Apply a volumizing styler to the roots, like Nexxus Root Exxtend, to add body into the hair.
· Distribute a medium-hold mousse, such as Nexxus Mousse Plus, throughout hair to and maintain and support the structure of the style. More modern updos employ product instead of teasing to build body, for a softer, healthier look.
· Blow dry hair with a large round brush, concentrating on the ends to smooth the hair.
Step 2
· After drying, use a medium sized curling iron throughout the hair to create uneven waves and set the shape around the face.
· Once curled, create side part and pull hair back and away from the face.
· Then, take various sized sections of the curled hair and twist and pin back to create the updo.
· Insert an elegant, decorative pin above the updo to draw attention to the intricate details of the style.
Step 3
· Finish with a light-weight hairspray, like Nexxus Comb Thru, to help secure the style throughout the evening.