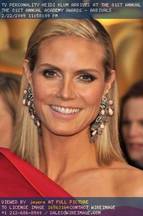 Celebrity make-up artist Linda Hay creates a fresh, modern look for Heidi Klum. The inspiration behind the look began with her red Roland Mouret gown that she wore to raise awareness for Diet Coke's Heart Truth Campaign. The graphic silhouette and bold red color of the dress required a softer, natural face to compliment the design rather than compete with it.
Linda wanted to bring out on Heidi's dramatic eyes and also incorporate the powder pink color of the coral and diamond Lorraine Schwartz jewelry on the lips and cheeks. Linda sought to create a look that was light and dewy while still modern and sexy.
EYES
Linda began by lining the top and bottom lashes with Victoria's Secret Very Sexy Eyeliner in Dark Chocolate and highlighting the inside triangle of the eye with a shimmering nude eye shadow in Champagne. She then used the Victoria Secret Spring Look Eye Shadow Quad to highlight the eyes and make them pop. Using a large shadow brush, Hay applied Rich to the crease, Devoted to the eyelid and Champagne again as a highlighter under the brow and the inside corner of the eye. Using a smaller point shadow brush she blended a soft line under the eye from the outside corner to the tear duct. To finish, Linda applied three coats of Victoria's Secret High Definition Mascara in Blackest Black.
CHEEKS

On the cheeks, Linda used the new Victoria's Secret Highlighter/Blush Duo in Fresh to the apple of the cheek to create the allusion of more defined bone structure.
LIPS
Linda lined the lips with the Perfect Lipstick in Whisper followed by Victoria's Secret Lip Gloss in Blush for subtle pink finish.