Marchesa's Fall 2009 collection juxtaposes pleated tulle and silk chiffon ruffles with sequins and delicate lace.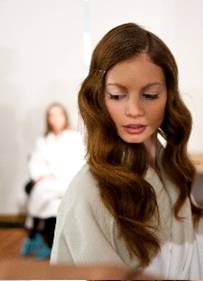 Lead stylist and John Frieda Collection Creative Consultant Harry Josh created a strong part and natural waves using John Frieda Root Awakening products. I envisioned a wood nymph a la the Britney Spears Curious commercial when Harry explained that the look was inspired by the enchantment of the forest. To get the look, Harry equipped models with John Frieda Root Awakening Shampoo, Conditioner and Detangling Spray prior to the show.
"Using a curling iron slanted horizontally, manually wrap hair around the iron to create the appearance of natural waves and avoid an overly styled look," Harry advised. "Brush hair through to loosen curls, then slick down the side and secure with a bobby pin." Harry recommends aiming the bobby pin at a 45 degree angle from the outer corner of the eye to secure hair away from the face.
Talia Shobrook for NARS Cosmetics's look backstage at Marchesa was all about wild brows and matte skin. Talia created a whimsical look from her vision of a naughty aristocrat running out of a party, "like a young girl going into the woods wearing a gorgeous ball gown, putting on makeup rather naively," she explained.
Wild brows atop flawless skin was the focus of the look. "I used a dash of Madrague brown shadow and went right into the inner corners of the brows," said Talia. To capture the look of a tousled young girl, the brows were brushed in an unnatural direction. Beneath the brows was a colored lid of matte white, as if applied in a fleeting moment by a true makeup novice. Soft lips complemented the perfect skin. Here's what you need to get the look.

Face
· Lightly exfoliate and smooth skin with NARSskin Hydrating Freshening Lotion
· Moisturize with NARSskin Aqua Gel Hydrator
· Use NARS Sheer Glow Foundation (NEW for Fall 2009) in the center of the face and buff out for a neutral base
· Apply NARS Concealer generously, to cover any imperfections
· Apply NARS Loose Powder for matte finish
Eyes:
· Apply NARS Duo Eyeshadow in Kilimanjaro (icy yellow and icy blue sides) to entire lid, all the way to the brow, in a block shape, not blending
· Apply NARS Duo Eyeshadow in Madrague (cream side) on top
· Dash of the brown in NARS Duo Eyeshadow in Madrague (caramel side) into the inner top corners of the brows, pushing the hair in opposite directions
Curl lashes with NARS Eyelash Curler
Coat top lashes with NARS Larger than Life Volumizing Mascara in Black (NEW for Fall 2009)
Lips:
Massage light layer of NARS Lip Lacquer in Chelsea Girls
Apply a bit of NARS Concealer to center of lip for matte look
Talia and Harry posed for me while the models were getting decked in Marchesa!