I finally met the famed Charlotte Tilbury (she was the lead artist backstage at the Barbie show) backstage at Diesel Black Gold today. She worked with MAC makeup to create the look you see at left. The inspiration was the 1930s Great Depression era infused with a modern rock and roll vibe. Charlotte herself, BTW, looks like a rock star.
"It's about a girl who stayed up all night with a jazz band," Charlotte explained. A girl who's partying through the depression, evidently. How to convey this bender of a night?
Charlotte lined eyes with MAC Eye Liner in Smolder on the top, bottom and waterline. Then, she topped it with MAC Blackware Gloss for a wet, messier look. Lots of MAC Mascara in Black was brushed onto lashes, while brows were set with MAC Clear Brow Set. MAC Face and Body Foundation was used to even out the models' skin tone and was set with MAC Prep + Prime Finishing Powder. Lips were "intended to look worn off, as if she's been kissing," Charlotte said. She used a combination of MAC Brick Lip Pencil, MAC Lipstick in Black Knight and MAC Lipstick in Ruby Woo.
Eugene Souleiman created a "Toulouse Letrec/Fall of the Empire" look using WELLA products. "It's based on the fall of someone glamorous," he explained when I asked as to the inspiration behind the look. "It's abstract in shape, but it moves," Eugene said. He used hairspray as a settling lotion by spraying it on before curling sections of hair with an iron. Then, the curl was sort of undone for a frizzified wave. A fishnet veil finished the look.
This is an intricate 'do.
Check the close-up of the back part of hair, which Eugene coiled into a lazy bun.
Amanda Fontanarrosa for CND told me that the brand custom blended a cream browned down purple for the Diesel Black Gold. Isn't it just like them to create a color I'm in love with that will never see the light of day on MY nails? "It's ace," Amanda confirmed. I agree.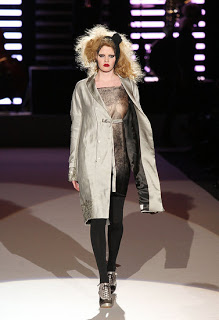 A photo of the finished look!
Image credit: Beauty Blogging Junkie
#NYFW