Hi, dolls!
Welcome to BBJ's #NYFW coverage! I've started a new NYFW series called On The Catwalk, where I'll be writing about shows I attend, as opposed to shows on which I report backstage (that series is called BBJ Backstage). Obviously, the series' name is inspired by one Mr. Right Said Fred. Now, I realize that the Graey was a presentation, not a show, so there wasn't actually a catwalk at this one, but I feel we must be consistent and still use the name of the series even for a presentation.
I thought the dresses were gorge: gossamer, sheer layers over solid slips. The colors were fun, bright and lively. Lisa Luder of Romy and Michele's High School Reunion would no doubt declare it "a fun, frisky use of color."
The makeup was fierce: black winged '60s liner with a rose red lip. Hair was
straight, long and loose. No muss, no fuss. The verdict? I'm into it. What do you think? Tell me in the comments. Stay tuned for my thoughts on the Venexiana show!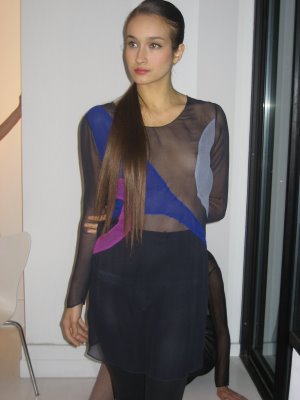 Image credit: Beauty Blogging Junkie