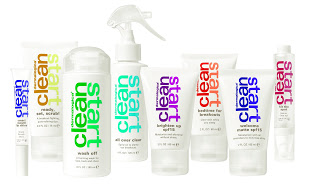 Teen BBJ readers, listen up!
Just in time to get you ready for
prom season
, Dermalogica
(one of my fave skin care brands) recognized that most products available to the teen demographic are harsh on skin and contain ingredients that strip the skin of its natural oils, triggering breakouts.
Clean Start by Dermalogica
is a system of eight products that addresses the needs of teenage skin. The system stays true to the same strict specifications all Dermalogica products follow: no artificial fragrances or colors, no mineral oils, no S.D. alcohol, and no comedogenic or allergy-causing ingredients. Dermalogica has also created
cleanstart.dermalogica.com
where teens and young adults can interact in a skin health forum, learning about the products, their skin, and more. The product lineup is comprised of eight items:
Wash Off ($20)
Face the day with a clean slate! This foaming wash clears away dead skin cells and extra oils to clean deep, banishing breakouts from your face, back…or wherever. Contains no artificial fragrance or color.
Key Ingredients:
Salicylic Acid dives deep, clearing trapped oils, wiping out breakout-causing bacteria and helping prevent future breakouts.
Botanical extracts help regulate oil production.
Orange Peel Oil revives, energizes and refreshes.
All Over Clear
($18)
Tone up and clear out! This refreshing mist splashes over skin to control shine and keep breakouts away. Invigorating extracts will never leave skin dry or tight. This toner instantly cools and revives. Contains no artificial fragrance or color.
Key Ingredients:
Sesame Seed Extract helps control surface oil and shine, especially in the T-zone.
Licorice, Burdock and Argan extracts hydrate, calm and shield skin from environmental exposure.
Ready, Set, Scrub! ($21)
It's a masque…it's a scrub…it's a breakout-fighting, pore-refining duo that delivers smoother, clearer and fresher skin! Apply and let set for 5-7 minutes. Purifying clays soak up excess oils and debris hidden deep in your skin, while a blend of plant extracts soothe and cool. Then scrub all over, letting the Silica granules polish away those skin-clogging, dull dead cells. Rinse and reveal a brand spanking new you! Contains no artificial fragrance or color.
Key Ingredients:
Purifying clays pull excess oil from skin, deep-cleaning pores and controlling shine.
Cooling Menthol eases redness while refreshing skin.
Silica polishes skin for a smooth, brighter finish and scrubs away clogging dead skin cells.
Welcome Matte SPF15 ($24) (GOD that name is clever. I seriously wish I came up with it.)
Say good-bye to shine without drying out skin with this extraordinary, lightweight lotion that won't clog pores. With a unique blend of breakout-fighting ingredients, daily use helps keep skin clear and shine-free, while protecting from skin-aging UV rays. Contains no artificial fragrance or color. Key Ingredients:
Oil-controllers help minimize shine, while moisturizers keep skin hydrated.
Salicylic Acid exfoliates to clean out pores and banish breakouts.
Sunscreens provide critical defense against UV rays without a chalky, heavy or greasy feel.
Brighten Up SPF15
($24)
Hydrate and be bright! This multi-tasking lotion with UV-shielding SPF contains a natural tint and shimmer to keep skin looking even and fresh (never shiny!) for an all-day glow. Lightweight moisturizers provide the perfect amount of hydration for skin that acts dry, oily… or a bit of both! Light coverage is ideal for a natural day look or glamorous effect. Skin-smoothing, non-greasy, streak-free formula. Contains no artificial fragrance or color.
Key Ingredients:
Birch Leaf helps refine and purify pores while Willow Bark clears congestion for your best-looking skin.
Bedtime for Breakouts ($22)
Make tomorrow a clear day! This super stealth treatment absorbs quickly, delivering a potent blend of botanicals to wipe out future breakouts lurking below the surface. Rest easy as it purifies, gently exfoliates and clears to ensure you awake with less congestion, fewer breakouts and reduced redness. Contains no artificial fragrance or color.
Key Ingredients:
Salicylic Acid prevents breakouts by naturally unclogging the follicle.
Cooling Cucumber and soothing Licorice help lull redness away.
Hit the Spot
($22)
Breakouts have finally met their match! This concentrated spot treatment absorbs without a trace, minimizing breakouts while controlling future breakout activity. Contains no artificial fragrance or color.
Key Ingredients:
Benzoyl Peroxide kills breakout-causing bacteria with a blast of oxygen, clearing breakouts fast.
Soothing plant extracts help reduce redness and calm skin.
Zinc Sulfate helps purify skin.
Smart Mouth Lip Shine ($16)
Apply and shine! This super-smoothing, glistening lip shield moisturizes and conditions to deliver the softest lips you've ever had – proving a smart mouth isn't a bad thing. Supplies the perfect amount of shine without stickiness. Contains no artificial fragrance or color.
Key Ingredients: Vitamin E, Cocoa Seed Butter and Shea Butter ensure a super soft pucker.
Clean Start Kit ($35)
Whether looking to sample the products or to store an easy travel kit to store in a locker or gym bag, the Clean Start Kit provides teens with mini sizes of Wash Off, All Over Clear, Ready, Set, Scrub!, Welcome Matte SPF15, and Bedtime for Breakouts.