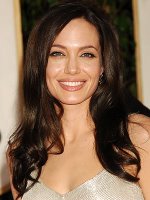 The inspiration behind Angelina's 'do was light, airy and natural locks. Celebrity hairstylist David Babaii accomplished this look with three simple tools: a blow-dryer, round brush and the his signature Bohemian Beach Spray ($12).
After blow-drying her hair with his David Babaii for WildAid Blow Dryer ($120) and a round brush, David took large sections twisting the ends around the brush and spraying each with his Bohemian Beach Spray.
Using the dryer's low speed, he gave each section a blast of warm air to set.
After cooling, the section was gently unwrapped from the brush and additional Bohemian Beach Spray was scrunched in to give volume and lift.
The result is a look that is not overdone or un-natural and is easy to achieve at home. Ange does the down 'do well, n'est-ce pas? She knows what works and she sticks with it!