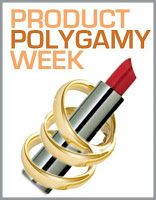 It's time for a theme week, daisies!
Daneen and I decided we simply must celebrate this Sunday's season premiere of Big Love with some beauty product polygamy. This week (Tuesday through Friday), Daneen and I will be assigning our fave products Barb, Niki, and Margene status. What does that mean? Here's a legend, if you will:

The Barb is the original fave, your always-go-back-to-it/Mr. Big in the bunch.

The Nicki is the newer, spritely version which distracted you from your LTR (long term relashe) with The Barb. It's fantastic for a while… but overall, your time together is short-lived.

The Margene is the current, shiny-new, can't live without it prod in your lifestyle. Maybe it's a 2009 color, maybe its a luxe, technologically advanced formula… who can guess? Not me. I don't know your life. But I do know mine, so read below to see which products won Barb, Niki, and Margene status in the Makeup category!
FOUNDATION

The Barb: Biotherm Sense Comfort Foundation ($25) I can't believe I haven't reviewed this yet. Biotherm's Sense Comfort Foundation is a dream come true on dry winter days. I used to mix some moisturizer in with my foundation until I discovered this little gem which comforts flaky skin and evens its tone with utter ease.
The Nicki: Elizabeth Arden Intervene SPF 15 [I love the texture and was into being able to use a non-SPF-infused moisturizer.]
The Margene: Make Up For Ever HD Foundation

MASCARA

The Barb: Dior Diorshow Mascara
The Nicki: Cover Girl LashBlast Mascara
The Margene: Dior Diorshow Iconic Mascara [It's literally the shiny, new, technologically-advanced version of Diorshow. Does it GET more Margene?]
EYELINER

The Barb: Clinique Quickliner in Black/Brown
The Nicki: Urban Decay 24/7 Eyeliner [MAFU, the Margene, upstaged this fave thanks to its skinnier line it produces and its smudgability.]
The Margene: Make Up For Ever Aqua Eyes

LIPSTICK/GLOSS

The Barb: Clinique Different Lipstick in Tender Heart
The Nicki: C.O. Bigelow Mentha Lip Shine in #1138 [The first minty gloss I'd tried that moisturized. I fell hard and fast.]
The Margene: NARS Lip Gloss in Sweet Revenge [I love the orange undertones almost as much as I love the name. And what the name ENATAILS.]

The rest of the week, Daneen and I will be covering Skin Care (Wednesday), Hair (Thursday), and Body products (Friday). Get excited. In the meantime, check Daneen's makeup Barbs, Nickis, and Margenes! And tell me YOURS in the comments.
P.S. Do you love the Product Polygamy Week image? Thanks to Jim for creating it for us!