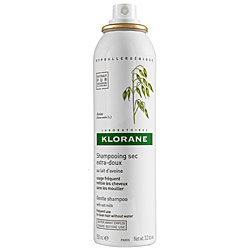 I've seen it dozens of times backstage at Fashion Week, but it took this glowing review on Lucky's beauty blog to precipitate my purchase of Klorane Dry Shampoo ($18) this past weekend.
This dry shampoo is–hands down–the best in the world where we live as people. Most dry shampoos I've tried (Bumble and bumble's Hair Powder, Oscar Blandi's Pronto, even Orlando Pita's T3 360 Refresh–the best of the bunch–) make my hair look better than filthy– but they don't make it look WASHED.
And aerosol-ing a bunch of cra powder into your locks can yield a totes vomitatious texture. Bumble and bumble leaves my hair untouchable, Pronto is slightly less vile, and T3 360 is decent, but still no substitute for a wet shampoo. Post-Klorane? I want to run my fingers through my seemingly freshly blow-dried mane. It's changed my lifestyle. Four days deep into your blow-out? No problem. I wouldn't have dared go beyond two, previously.
This stuff is SO good, that whilst I was in the super-long Sephora register line, the girl behind me screamed "OMG. I LOVE that stuff. I use it ALL THE TIME." when she saw it in my hand. We proceeded to discuss its virtues ad nauseum until I was called to pay. Then, on Tuesday at drinks with my friend Julia (who's now a big muckety muck Executive PR Director at NARS – yay for Jules!), it came up again and she told me she's been using it for years. She's French and ALWAYS knows about the best stuff first (aren't the French just like that? It takes us YEARS to catch on) and told me she that before it was sold at Sephora, she was bringing home bottles and bottles of it every time she visited her parents in Paris. It's such a classic that her mom even used it when she was in the hospital to have her 29 years ago. I told her I'm on a need-to-know basis re: any and all MAGE French beauty panaceas going forward, lest you worry.
It's sold out EVERYWHERE during Fashion Week, so get on top of that, Rose. And fast. Get it at Sephora.com
.