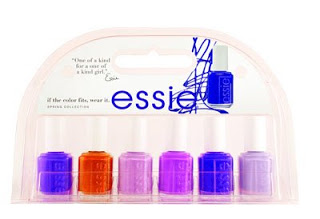 Just like in the '90s Era of the Vamp, I was totes enamored with dark vixen-esque nails and then all at once OVER it. And that's how I'm feeling right now. Something about last spring's dark nail trend just pushed me over the edge. I just can't cosign a dark nail in the spring. It seems wrong. That's why I was delighted to hear that Essie is busting out some beautiful brights for spring 2009!

The Essie Spring 2009 collection compliments the season's dreaminess with a mixed palette of soft red, beige and blue, pinky coral, fuchsia and petal rose – each named to inspire the newness and hopefulness of Spring. P.S. That soft red? Seems to be a synonym for spring red, about which I learned from Gucci Westman at Fashion Week in September and haven't stopped thinking about one DAY since. I received the collection last night circa 10pm after drinks with my former college roommate Julia and don't you think for second I didn't paint that shiz (One of a Kind, see below) on my nails the SECOND I walked in the door. I love it.

"This was a season of classic hues," says Essie Weingarten, president and founder of Essie Cosmetics, Ltd. "Last Fall's potent colors gave way to softer, muted tones for Spring. I created this collection to flatter that feeling of Spring and gave each shade a feel-good name."
Essie's Spring 2009 Color Collection:
Eternal Optimist – Spiced Tea Rose
Flawless – Cherry Blossom Pink
Status Symbol – Feisty Hot Pink
One of a Kind – Poppy Red Kiss
Lacquered Up – Red Hot Crimson
Mesmerize – Royal va-va Blue
Essie Tip: For a perfect long-lasting manicure and pedicure use essie's first base base coat and good to go! top coat.
The Essie Spring 2009 Color Collection joins the award-winning line-up beginning February 2009 at www.essie.com and fine spas, salons and beauty stores nationwide. $8 each.